About OBAS
OBAS holds the fishing rights on the River Great Ouse, in the parishes of Buckden and Offord Cluny.
We welcome all well behaved anglers and consistently have a yearly membership number of around 300 persons of all ages, gender and nationality.
We are members of the Angling Trust and our enthusiastic committee work hard for the benefit of the members by holding regular work parties and running joint projects with the Environment Agency.
Society Officers
John Richardson
Tel: 07564277062
Email: obaschair@outlook.com

Steve Mobbs
Email:
smobbscarpentry@gmail.com

Ann Elliott
Email: ameuk@btinternet.com

Maurice Mobbs
Tony Elliott
Email - tony@ousefishing.com
Tel: Mobile 07928 461032
Committee Members

Alan Cooke
Tel: 07811 115209
Email: alan@ousefishing.com

Dawn Cook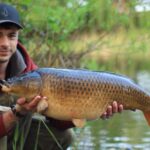 Adam Sheehan
Tel: 07714612949

Paul Dowling

Steve Harman
Chris Chapman
Tel: 07714785052
Get in touch
If you'd like to learn more about our club, membership or anything else, please get in touch.